The Ultimate Guide to the Wild Atlantic Way, Ireland
The ULTIMATE 'once in a lifetime' road trip to experience in Ireland is the Wild Atlantic Way! It is important to note that this stretch of road encompasses the full western seaboard of Ireland, thus includes many of the shorter road trips that one would take if they were limited with time whilst on vacation.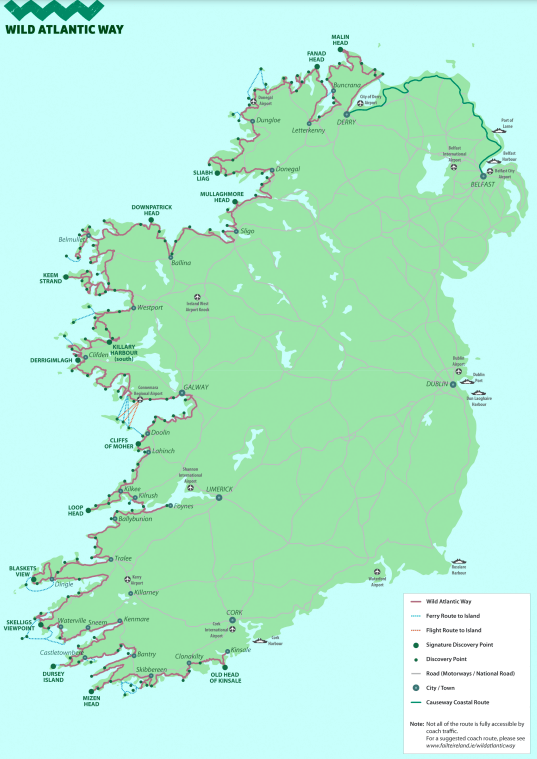 COUNTY CORK
Beginning in the charming County Cork yachting town of Kinsale, which is often referred to as Ireland's 'gourmet capital' and is home to an abundance of gastronomic establishments, the Wild Atlantic Way meanders south west towards one of the Emerald Isle's most southerly points, Mizen Head. From here, there are multiple other cape-style landforms you can explore such as the Sheep's Head Peninsula and the Beara Peninsula, both of which contain beautiful landscapes and seascapes as well as rural villages dotted throughout.
COUNTY KERRY
Next on the Wild Atlantic Way map, journey north to County Kerry, colloquially known as 'The Kingdom' county. Famous for the famous Ring of Kerry and Dingle Peninsulas, Kerry is the safe haven for many an Irish holidaymaker with its breathtaking panoramas, golden strands, dramatic waves and mountain peaks. Be sure to visit the bustling town of Kenmare and pretty villages of Sneem and Glenbeigh along with the sleepy fishing village of Portmagee. Other 'must visit' places on the glorious Ring of Kerry include Derrynane House & Gardens and St. Finian's Bay. Next, it's north to the Dingle Peninsula, home to the vibrant port town of Dingle with its colourful shopfronts, art galleries, rustic cafes and traditional Irish pubs. Because of its long-standing tradition as a fishing hub, it is here that you will find some great foodie spots that serve the freshest of fish on a daily basis. West of Dingle, there is a scenic coastal drive known as the 'Slea Head Drive' which is a definite 'must-do' if you are touring this part of the country. With an abundance of breathtaking scenery and archaeological sites scattered around the countryside, this is sure to aesthetically please the visuals.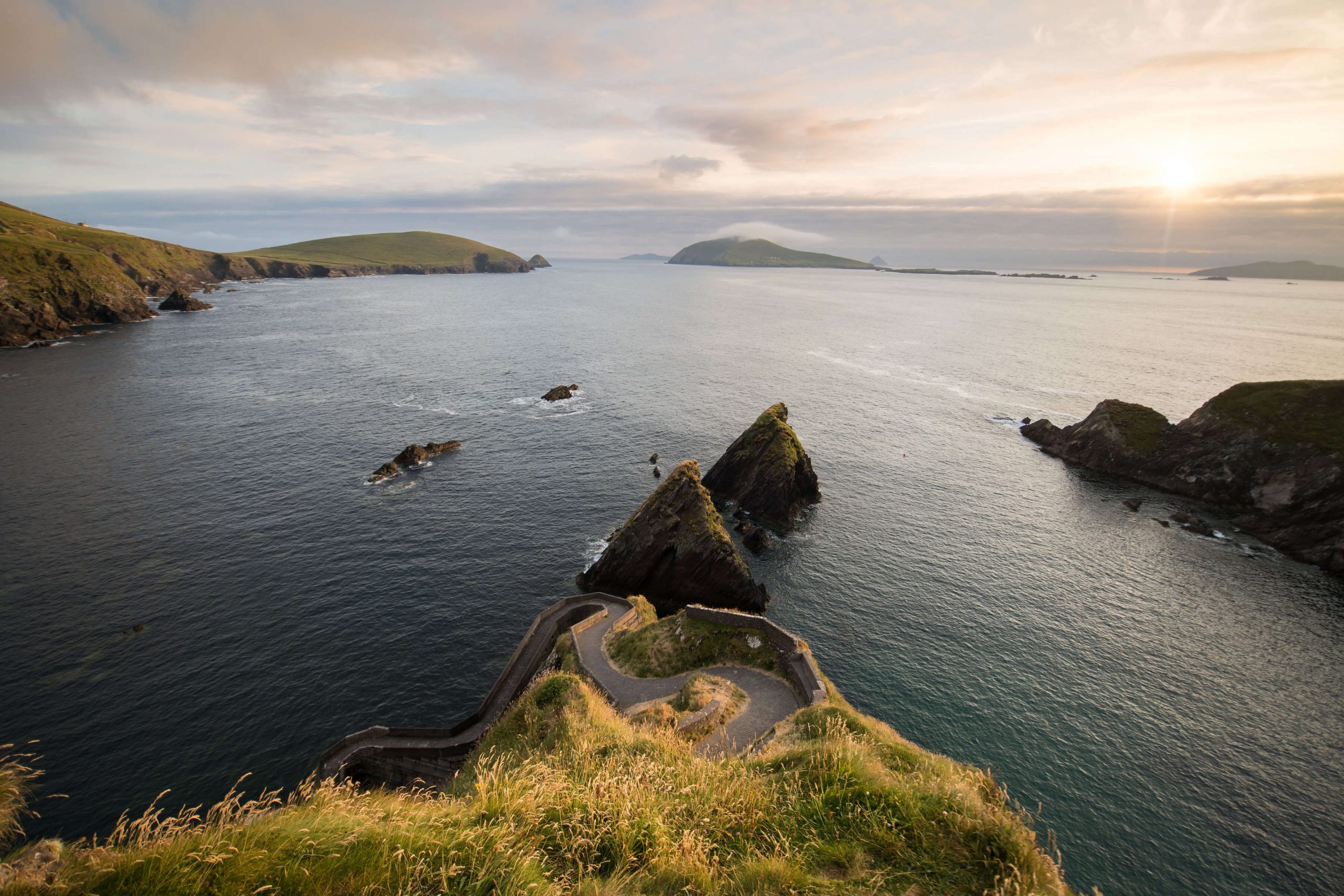 COUNTY LIMERICK & COUNTY CLARE
The journey next brings you through County Limerick which plays host to various sites such as King John's Castle and the charming town of Adare. Another visit to include on your Wild Atlantic Way Ireland itinerary is a visit to the Foynes Flying Boat & Maritime Museum which fames itself on becoming a pivotal component in launching commercial transatlantic air travel. Onwards you journey to County Clare which has a multitude of different things to do and see. First on your list should be a visit to Bunratty Castle & Folk Park, Ireland's most complete castle and adjacent township which is always a hit with both domestic and international tourists alike. Only down the road is the archaeological open-air museum of Craggaunowen which showcases what it was like to live in rural Ireland over 400 years ago. If you opt to travel the coastline, head out to Loop Head Lighthouse and follow the road north through Doonbeg and Spanish Point to the surfing town of Lahinch, renowned for Lahinch Golf Course which is seen as one of the world's top courses for golf enthusiasts. With fantastic views of the wild Atlantic Ocean and undulating dunes and fairways, this is sure to thrill any keen golfer.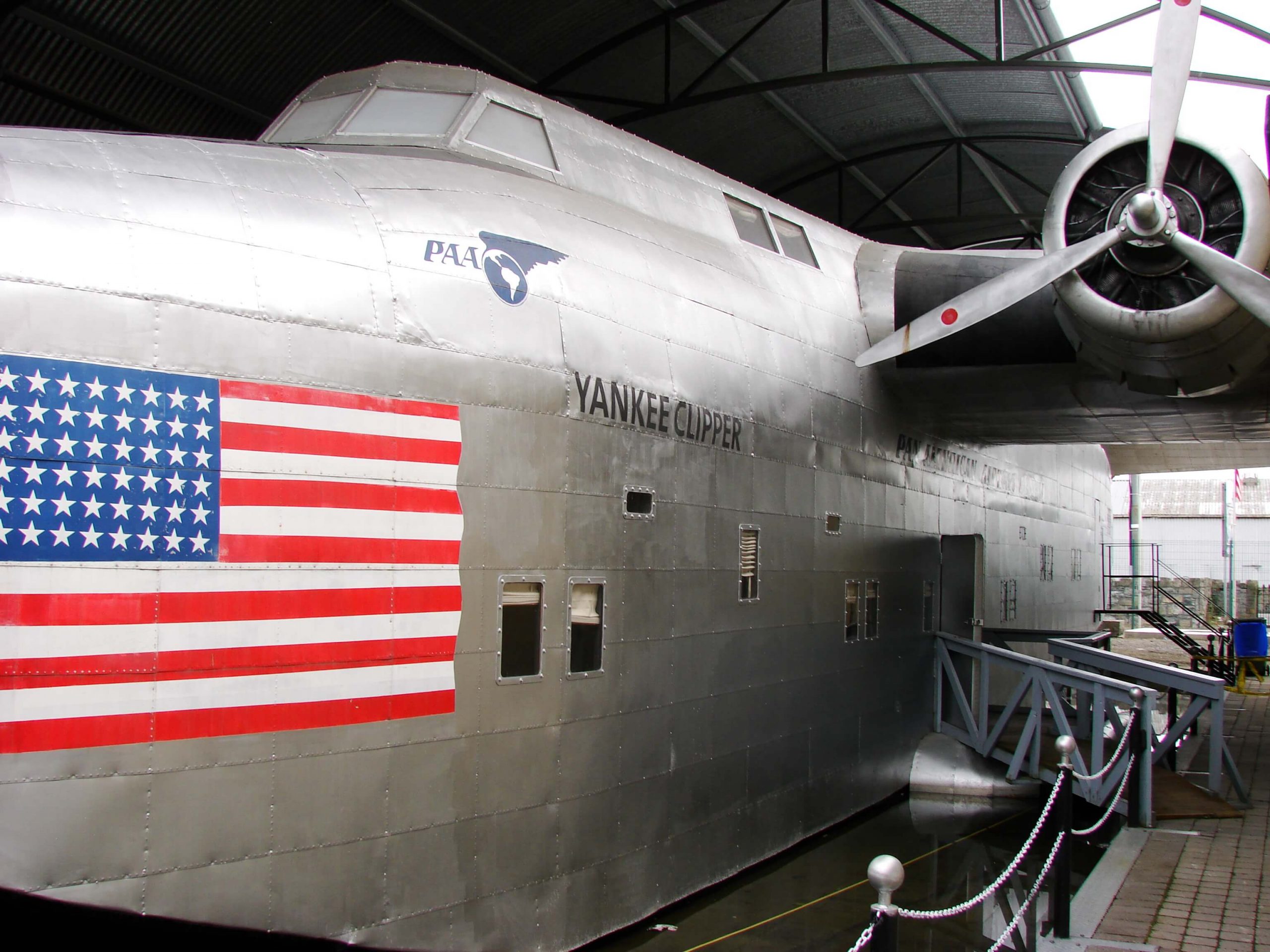 COUNTY CLARE TO COUNTY GALWAY
From here, you enter The Burren, an area of limestone rock that covers tranquil valleys with gently meandering streams. With its innate sense of spiritual peace, extraordinary array of flora and wildlife and megalithic tombs and monuments older than Egypt's pyramids, the Burren creates a tapestry of colour and a seductively magical aura which few people leave without wanting to experience again. County Clare is also recognised for the charming and colourful village of Doolin, Ireland's capital of traditional Irish music. With its legendary pubs and vibrant atmosphere, a night spent in Doolin is always a 'must-do' on any travel itinerary! Travel north along the Atlantic shoreline through the villages of Fanore and Ballyvaughan until you cross the county border close to the attractive village of Kinvara located on the southern shores of Galway Bay.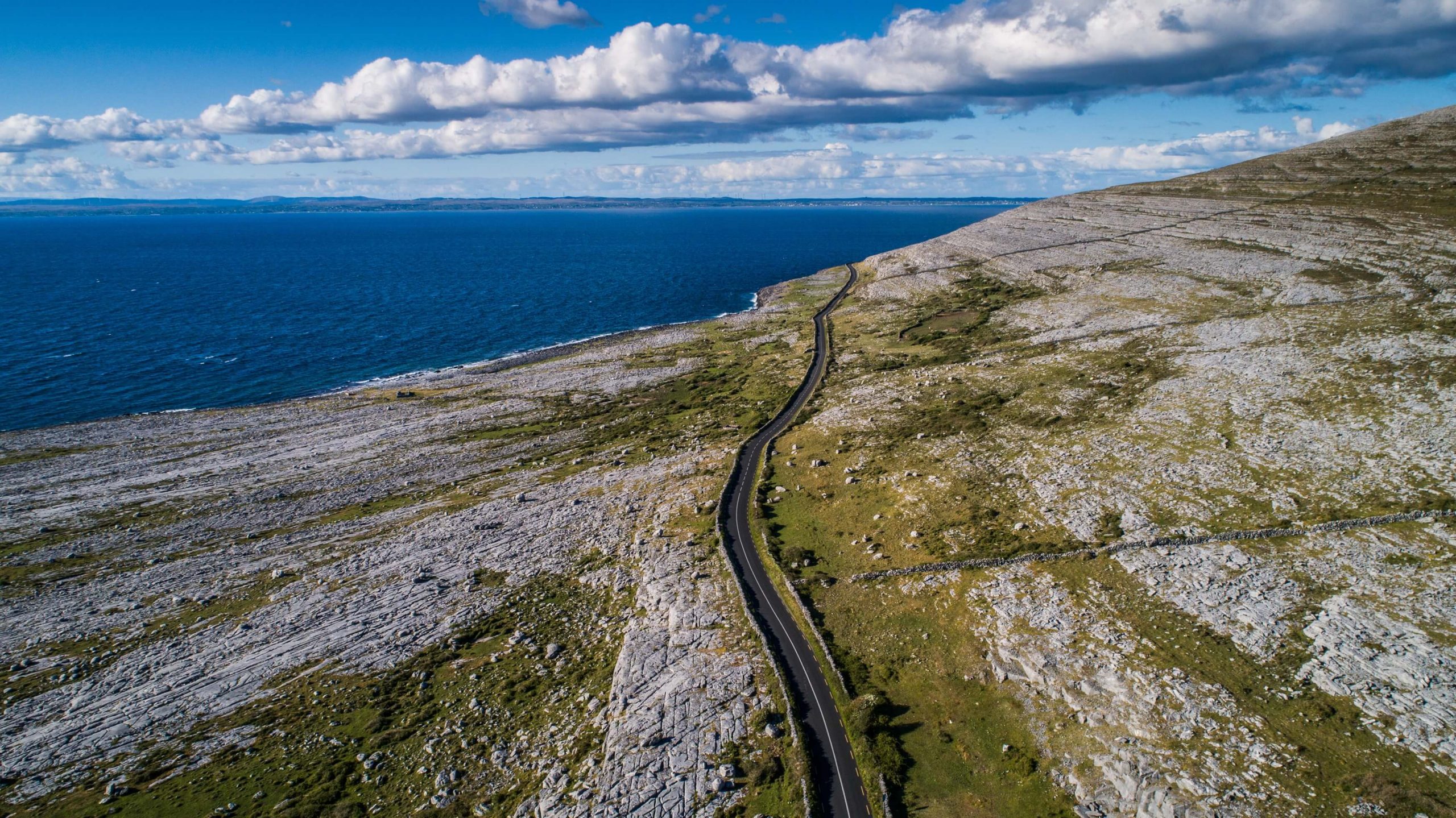 COUNTY GALWAY & CONNEMARA
From here, the next primary stop on the Wild Atlantic Way, for those wanting to experience an urban centre is Galway, colloquially known as the 'City of Tribes' due to the fourteen merchant families who dominated trade in the city between the 13th and 19th centuries. Galway is a vibrant and bohemian city full of stone-clad café's, artisan eateries and a thriving arts and cultural scene. Take a trip down Shop Street and the cobbled Quay Street and soak up the social, cultural and traditional Irish music scene on display. Next, travel west out towards the rolling hills and peat bog landscape of Connemara, a region known for its wild and rugged expanse. Here, there are charming places that deserve a visit, from the pretty villages of Carraroe, Roundstone and Leenane, situated at the head of Killary Harbour, to the bustling town of Clifden. Of course, one of the more visited places within the region itself is Kylemore Abbey which is always worth a visit for its superb gardens where you can enjoy a quiet and peaceful walk before enjoying a cup of coffee and delicious treat at Mitchells Café. Other attractions in the area for visiting include the Connemara Heritage & History Centre, Connemara Crystal, Connemara Marble and Ionad Culturtha an Phiarsaigh, the new state of the art visitor centre and summer cottage of Patrick Pearse, leader of the 1916 rebellion.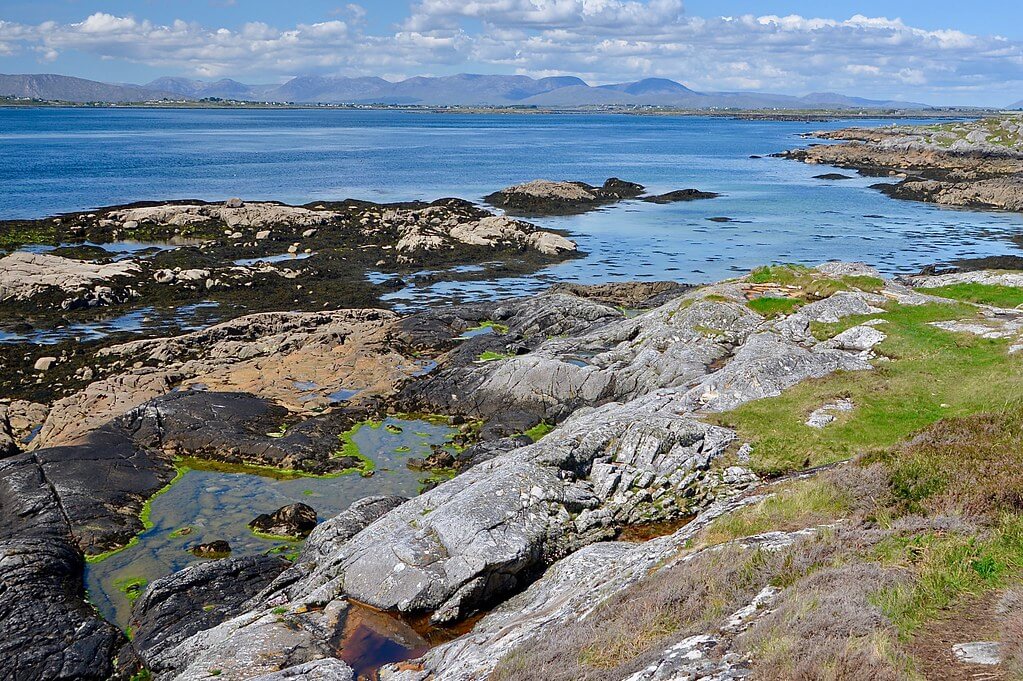 COUNTY MAYO & COUNTY SLIGO
Continuing north, the County Mayo town of Westport is next on the Wild Atlantic Way Ireland route map. With its traditional shop fronts and colour flower baskets straddling the Carrowbeg River, this charming town is sure to please. The town has an abundance of sites and activities on offer from visiting Westport House & Gardens to climbing the pilgrimage site of Croagh Patrick, an undertaking that attracts large crowds on a yearly basis. Also, for biking and activity enthusiasts, the new Western Greenway is a must! Covering a stretch of 42km, it showcases a section of County Mayo in all its glory, straddling the beautiful Clew Bay in the process. Of course, you do not have to do the full 42km – it is broken into three different sections and there are bike hires and pick-up services available at each. North of Westport, sites worth a visit include the Ceide Fields as well as the coastal Gaeltacht town of Belmullet and for keen hikers, a trip to the rugged wilderness of Wild Nephin Ballycroy National Park. Next on the itinerary, is the county of Sligo which is known for its close ties with Irish poet W.B Yeats. It is here, under the grand but fearsome rock formation of Benbulben, that Yeat's himself was laid to rest in Drumcliffe Cemetery. The region is dotted throughout with various megalithic sites such as Carrowkeel and Carrowmore along with the tomb of Queen Maeve on Knocknarea. In addition to this, for cultural and literary buffs, the county town of Sligo also has buildings that pay homage to the legacy of Yeats.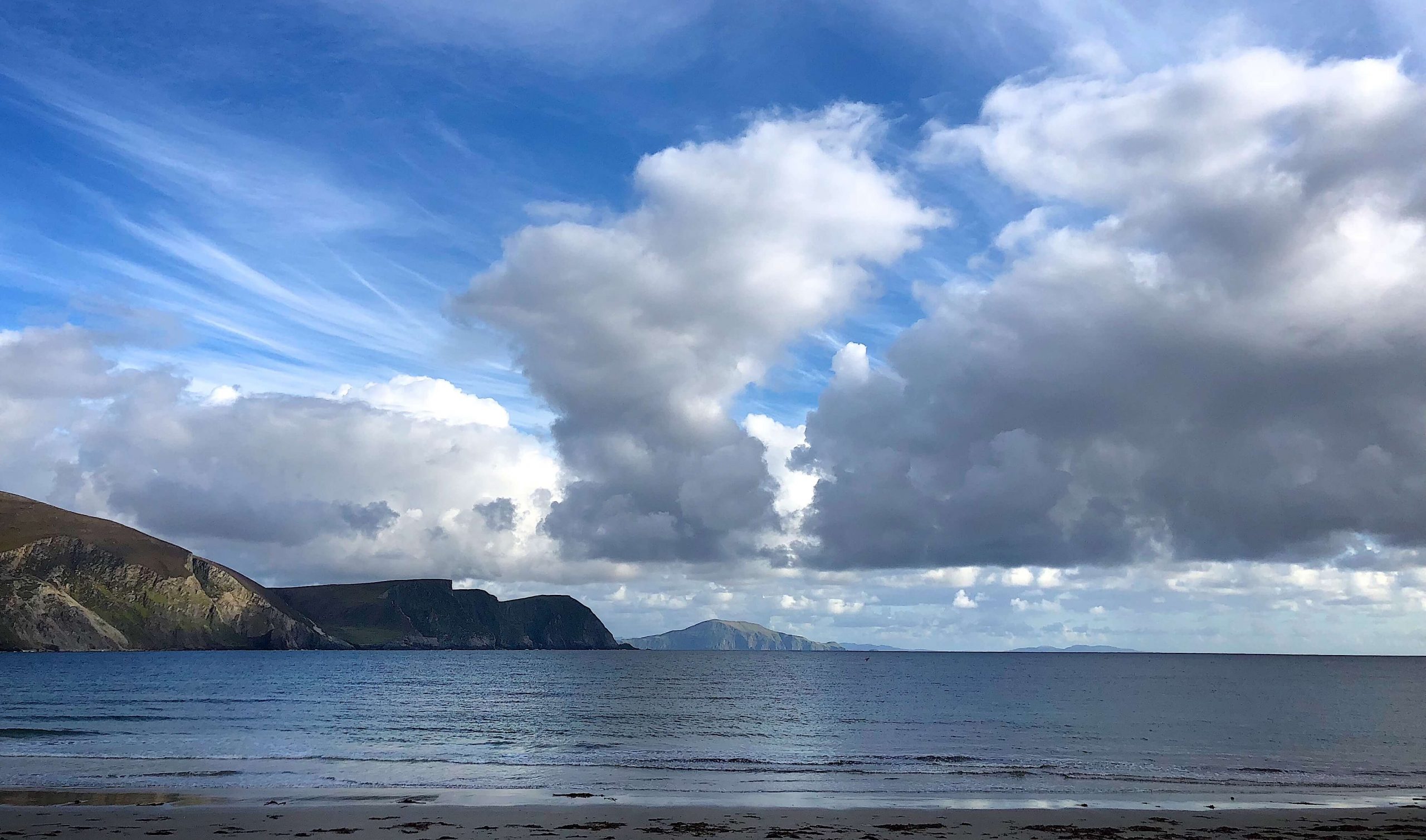 COUNTY DONEGAL & COUNTY DERRY
Journeying onwards, it's onto the county of Donegal, home to the Sliabh Liag cliffs and Ireland's most northern point, Malin Head. The landscape of Donegal is barren and windswept and its raw beauty is a sight to behold. The county town of Donegal is energetic, particularly in the summer months, but with an easy-going side to it. Like Galway, it is home to various festivals throughout the year and has many pubs and restaurants that serve good quality cuisine and top-notch pints of Guinness! Continuing west, why not visit the magnificent Sliabh Liag cliffs, Glenveagh National Park or craggy coastal village of Glencolmcille. Another place to consider is Doagh Famine Village where animated tour guides tell the story of life in this part of Ireland during the Great Famine. Two places worth a visit for astounding and dramatic scenes include Fanad Head and Malin Head so be sure to add these to your list. Finally, it's on to the walled city of Londonderry which is the final destination (or starting destination if you are travelling north to south) on the Wild Atlantic Way map. The city is home to the largest collection of cannons with many of them having thundered in anger over the two seventeenth century sieges. In recent years, Northern Ireland's second largest city has continued to flourish as an artistic and cultural hub after it's tumultuous past.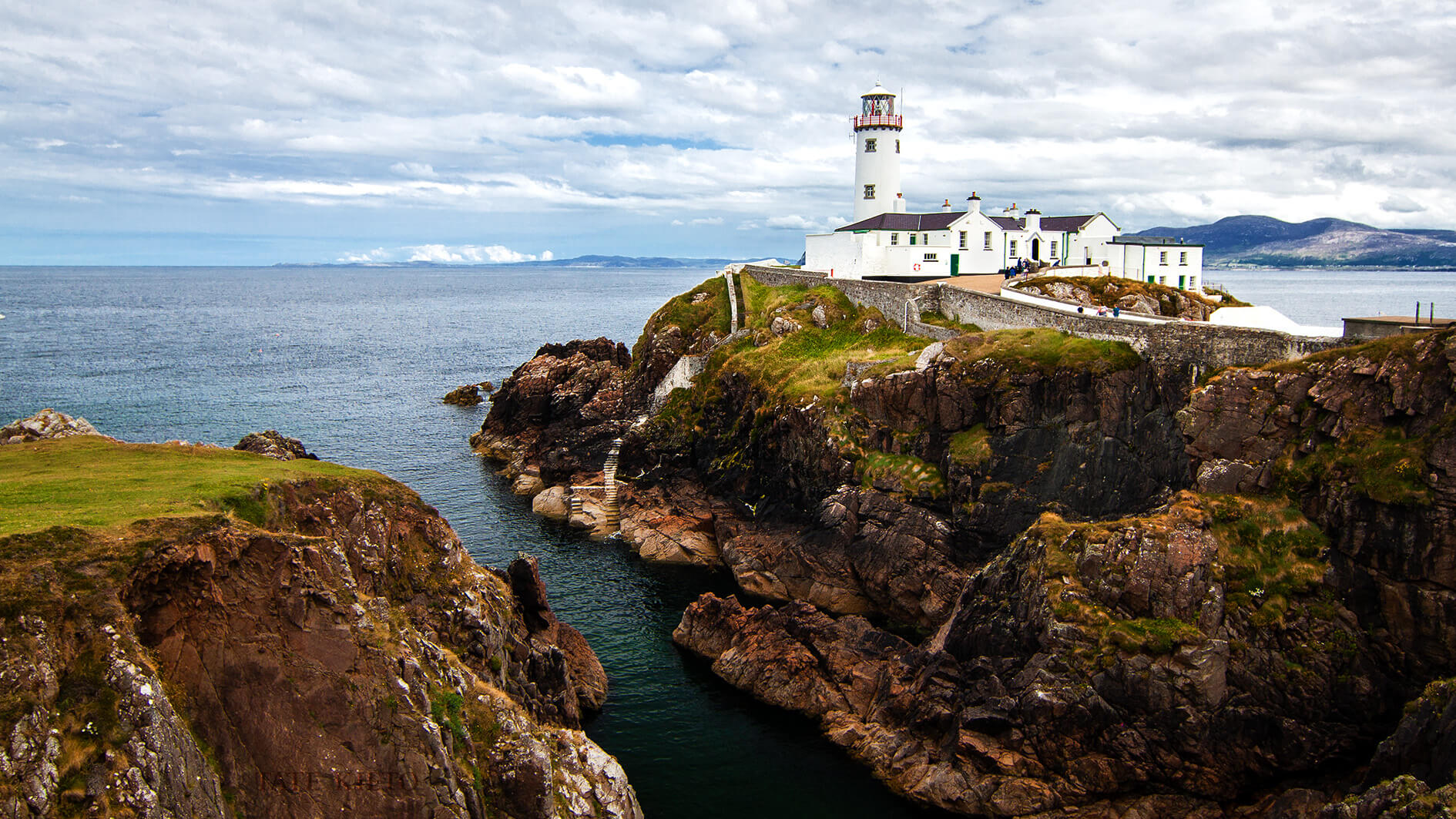 All in all, the Wild Atlantic Way is an Ireland adventure worth doing if you are planning a holiday of a lifetime! However, at 2750km long, you would want to give yourself at least 12 days to cover it. You could just as easily spend 12 months discovering every nook and cranny!
Get in Touch-

If you are interested in seeking out an adventure on Ireland's Wild Atlantic Way, contact our travel team today to start planning a unique and memorable holiday for you!
USA & Canada (FreeFone) 1877 298 7205
Australia (FreeFone) 1800 823578
UK (FreeFone) 0800 096 9438
International+353 69 77686