Having the chance to experience a St Patrick's Day in Ireland is something special to cherish.  St Patrick's Day takes place on the 17th of March and revolves around festivals to promote everything Irish. It marks a traditional turning point in the weather calendar with the days getting longer and this period is often thought of as the end of Winter and the arrival of Spring. St Patrick's Day is celebrated all over the world from Dublin to Australia and beyond.
The festival in Dublin is the biggest in the country and well worth visiting – it is full of colour. There are also lots of other towns and cities around Ireland with great festivals to visit if you prefer a smaller and more intimate affair!
10 Places to Celebrate St Patrick's day in Ireland
1 – Dublin
Dublin's Festival is the most well known in Ireland and is broadcast live on TV. The festival each year carries a theme, and it expresses Ireland through the creative arts of people and puts on an outstanding spectacle for everyone. You will see street parades, ceilis and a great atmosphere in the pubs with everyone dressed in a sea of green. Many of the famous Dublin landmarks will turn green for the day.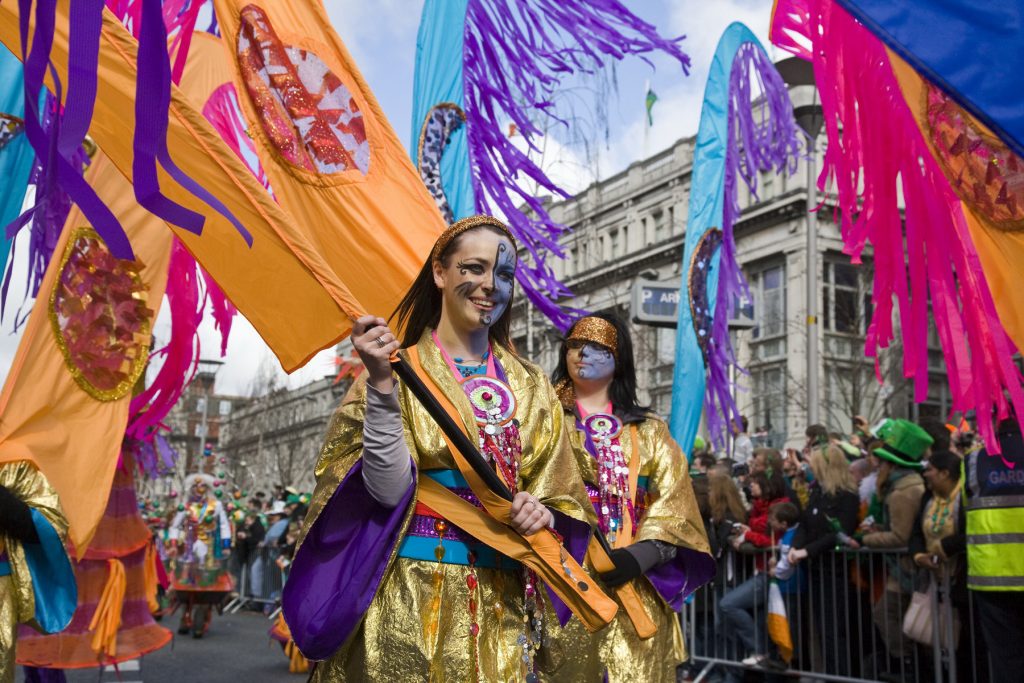 2 – Cork
Cork is Ireland's second largest city and is a great place to enjoy St Patrick's Day in Ireland as it puts on a jammed packed festival every year. It has several events throughout the city with plenty of street entertainment. One of the most iconic buildings in Cork usually turns green – Cork City Hall. If you want a great place to view the parade head to the South Mall area of the city.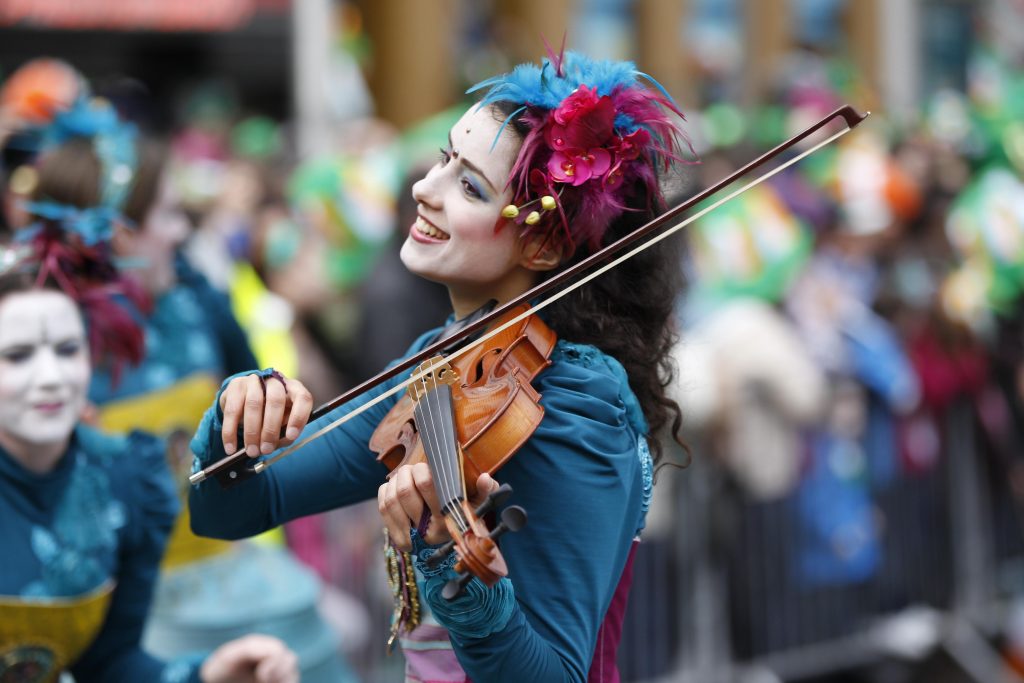 3 – Limerick
Limerick St Patrick's Festival celebrates Ireland's National Holiday over a number of days. Some special features of recent years' parades were band championship with over 1,300 musicians taking part, a fireworks display, and a 40-foot panoramic wheel that gave excellent views out over the city.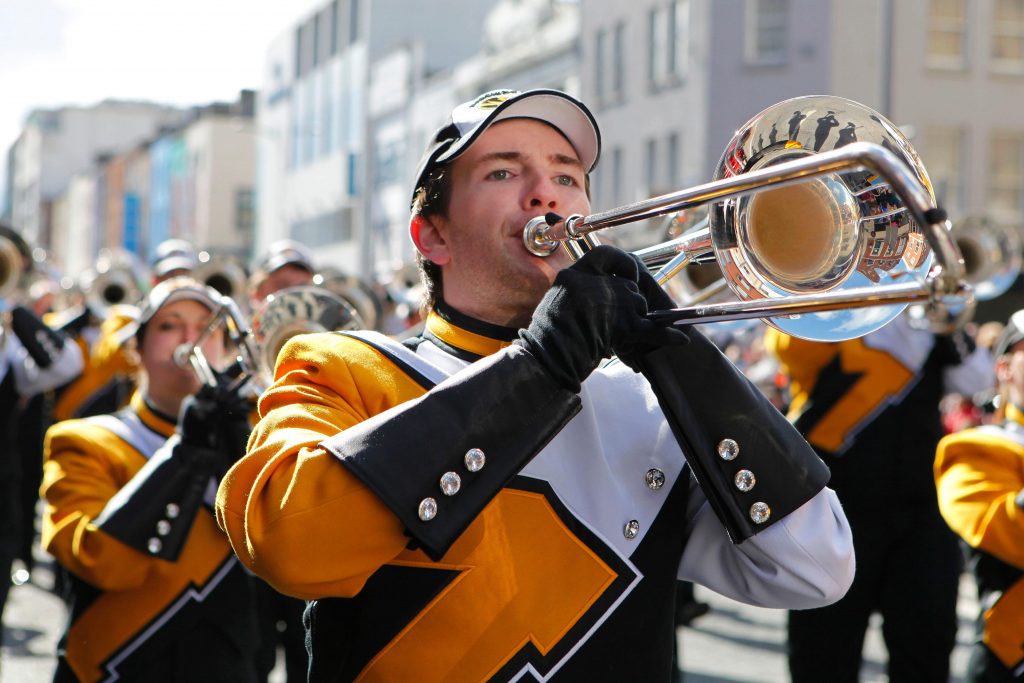 4 – Killarney
Killarney is located in the picturesque county of Kerry and is one of the most visited towns in Ireland. The town offers a backdrop to Killarney National Park and the place is full of activity around St Patrick's Day. Killarney has a long tradition of celebrating with an annual parade through the streets being the focal point. The festival typically has kid zones, street ceilis, themed lake cruises, treasure hunts and lots more for everyone.
Source: Irish Examiner
5 – Galway
2019 was the 177th anniversary of the Galway St Patrick's Day Festival and it was a festival of all things Ireland. A great place to see the parade is the famous Eyre Square where the parade finishes with the iconic fountain in the heart of the square going green for the occasion. The parade in Galway usually features a range of community, cultural, sporting, and international groups. In recent years, Galway's festival was about Diversity and was a platform to showcase local artists, community groups and the diverse range of talents in the city.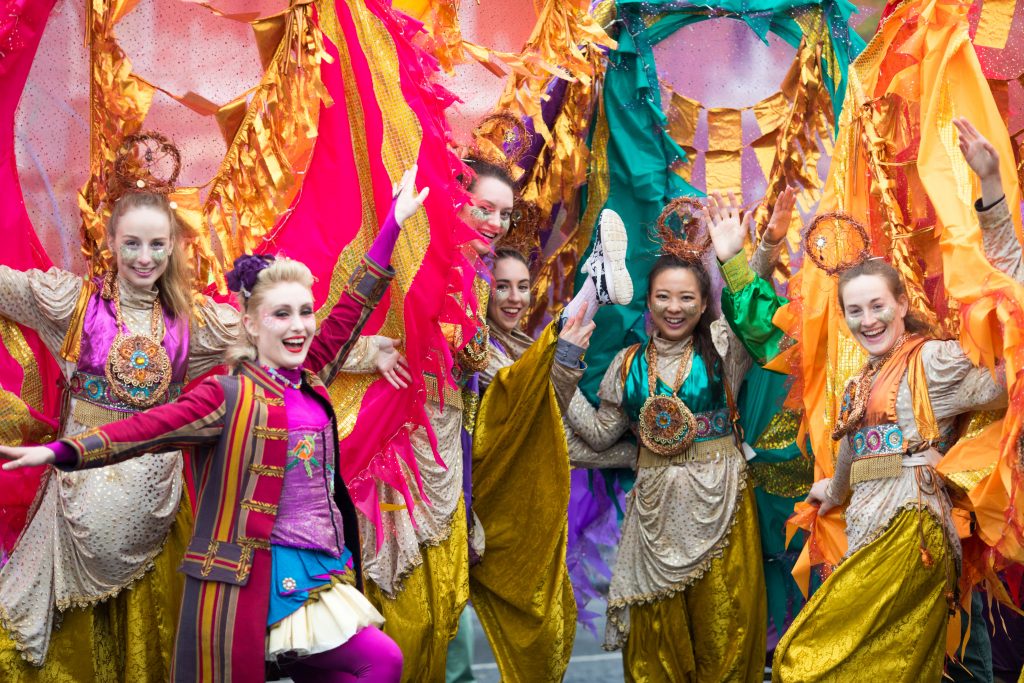 6 – Kilkenny
On any given day, Kilkenny city is full of culture, heritage and the arts – and Saint Patrick's Day is no different! Kilkenny showcases an annual parade with lots of community events involving, schools, businesses and community groups who participate together to bring a memorable festival to visitors. The theme for the parade changes every year, in 2019 it was " Bring back the Bees", to highlight how bees are an important part of Ireland's food ecosystem and to encourage people to protect their biodiversity.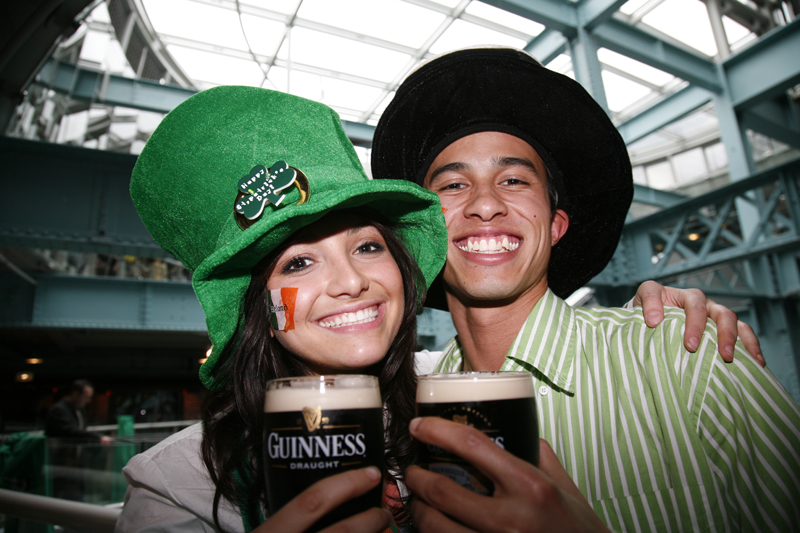 7- Belfast
If you are up and around Belfast around St Patrick's weekend, it is a great city to enjoy the St. Patrick's Day in Ireland with something for everyone. There are usually vibrant carnival parades with the city centre being full of colour and music. See some eye-catching floats, performers and costumes.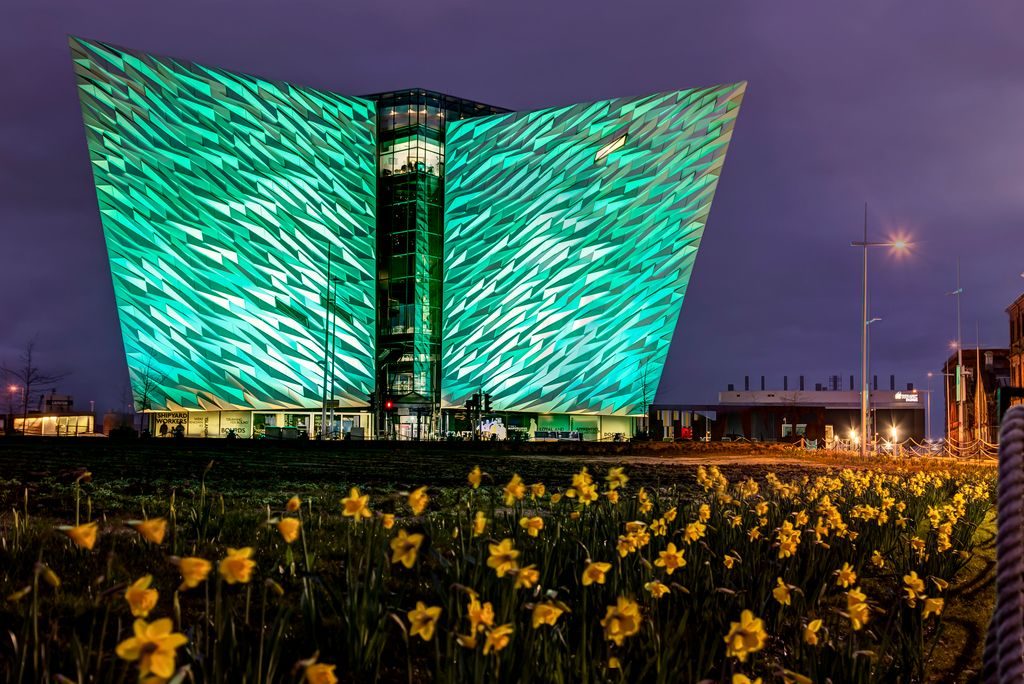 9- Derry – Londonderry
Derry – Londonderry usually offers a 'Spring Carnival' themed St Patrick's Day festival. The festival celebrates children and young people. Themes explore depictions of youth in myth and legend in the traditions of Celtic life and in the many diverse cultures across the world. There will be a chance to see mystical creatures make their way through the city representing young people from fables and fairy tales to faraway lands.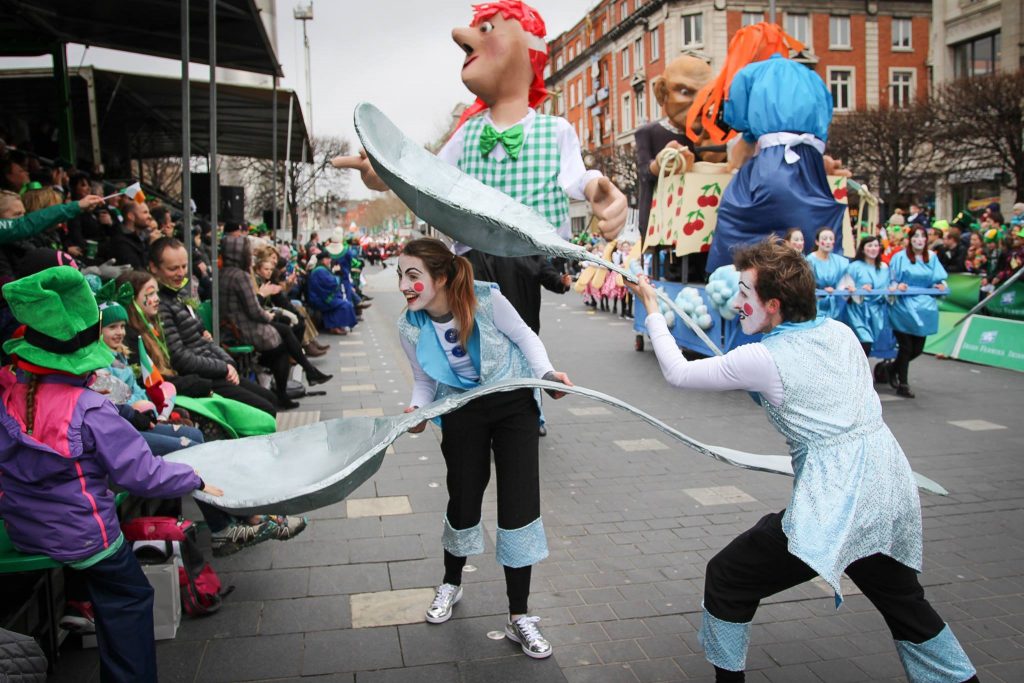 10 – Waterford
Waterford is Ireland's oldest city and is well renowned for its Viking Heritage and Culture and it always packs a punch too for St Patricks Day. The festival usually celebrates Colour, Culture and Community. The Waterford parade aims to showcase the cultural influences over the years that has helped to build stronger communities in the area.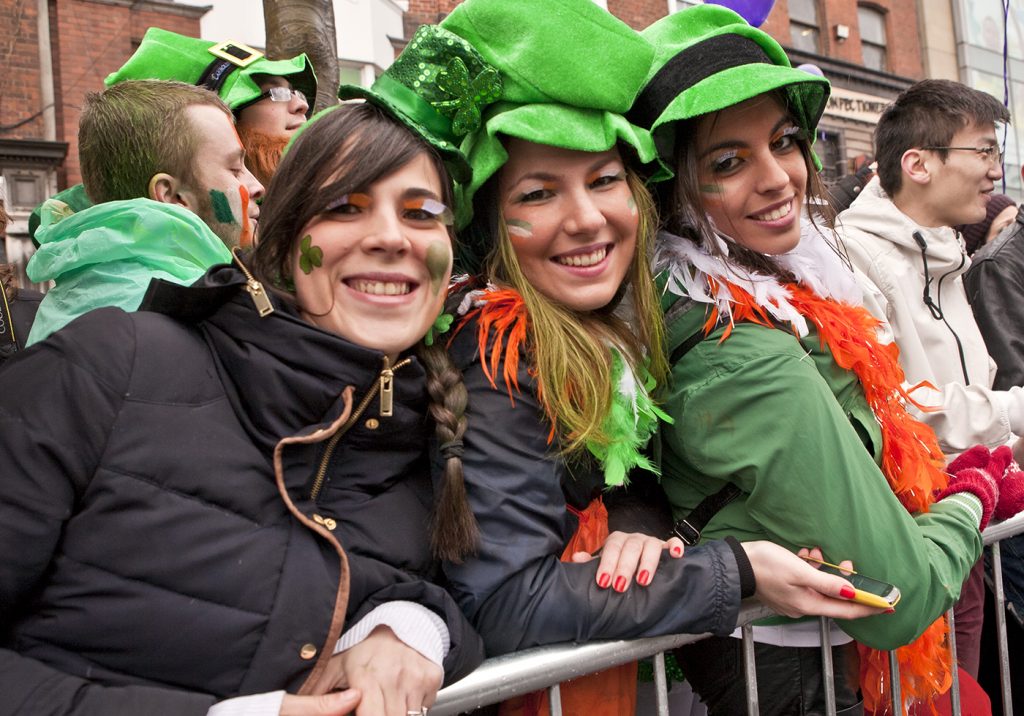 Get in Touch-
The best way to learn about St Patrick's Day in Ireland, is to visit yourself!  Contact us today for a quotation including some or all of these festival locations today –
USA & Canada (FreeFone) 1877 298 7205
Australia (FreeFone) 1800 823578
UK (FreeFone) 0800 096 9438
International+353 69 77686