Ireland is known throughout the world for its quality of beers and spirits. Food and drink go hand in hand and Ireland has some excellent food choices that will not disappoint.  Below is a list of some of the best food in Ireland to try on your next visit to Ireland.
Discover some of the best food in Ireland
Irish Stew
Irish stew is fittingly one of the best foods in Ireland and most popular. The ingredients that are put in a stew can vary depending on where you eat it but traditionally it will include lamb meat, potatoes and onions flavoured with barley. The stew is traditionally cooked in a pot over a number of hours at low temperature to give it the best taste. In order for the stew to not become too watery, other ingredients can be added such as herbs and spices; the stew can be thickened by using a lamb stock. Try it and you won't be disappointed!!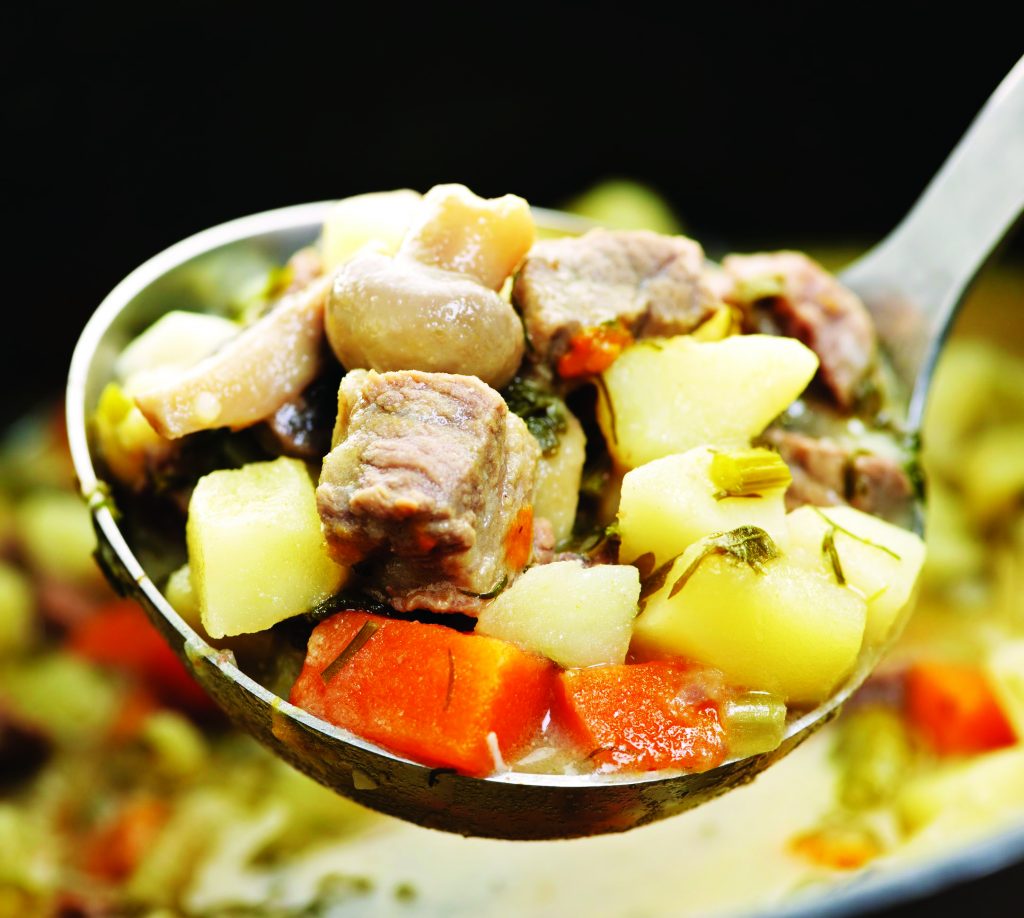 Shellfish
There are lots of shellfish options in Ireland and it is very popular in Irish cuisine. On the west coast of Ireland, you need to sample the oysters, which comes into season in September. Galway Oyster Festival is "Ireland's longest running and greatest gourmet extravaganza" – The Rough Guide publication. It is held between September 20th – 24th. If in Ireland around this time – it is worth going to. Other shellfish options to sample are clams in Connemara to Molly Malone's famed cockles and mussels, and prawns from Dublin  Bay. There is a prawn festival on in Howth Co Dublin.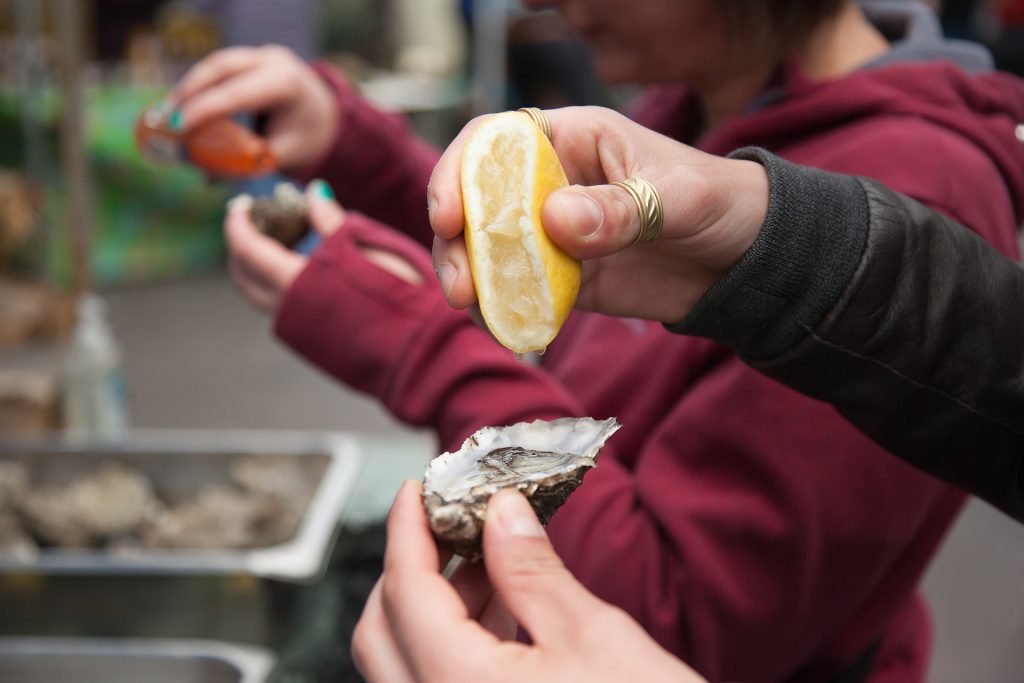 Black and White Pudding
This type of food can be found in a traditional Irish breakfast or as a stand-alone commonly found on menus as a starter. The most famous flavours of black and white pudding come from Clonakilty or in Kerry you will find the Sneem black pudding which is extremely popular. Pudding is not unique to Ireland but the recipe here is quite special.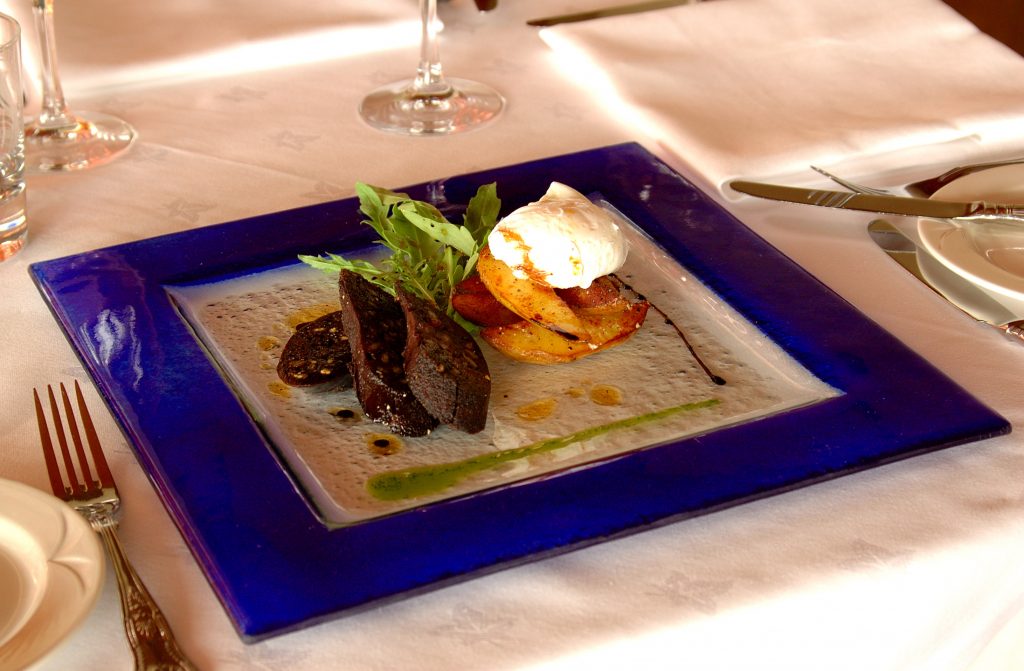 Smoked Salmon
Ireland is renowned throughout the world for its quality of seafood offering. Smoked salmon is a must try while here. Oak smoked salmon from the Burren region on the West Coast of Ireland, the beechwood smoked salmon from the Connemara Smokehouse or in Killarney or Cork try the award-winning smoked salmon from Quinlan's fish restaurants.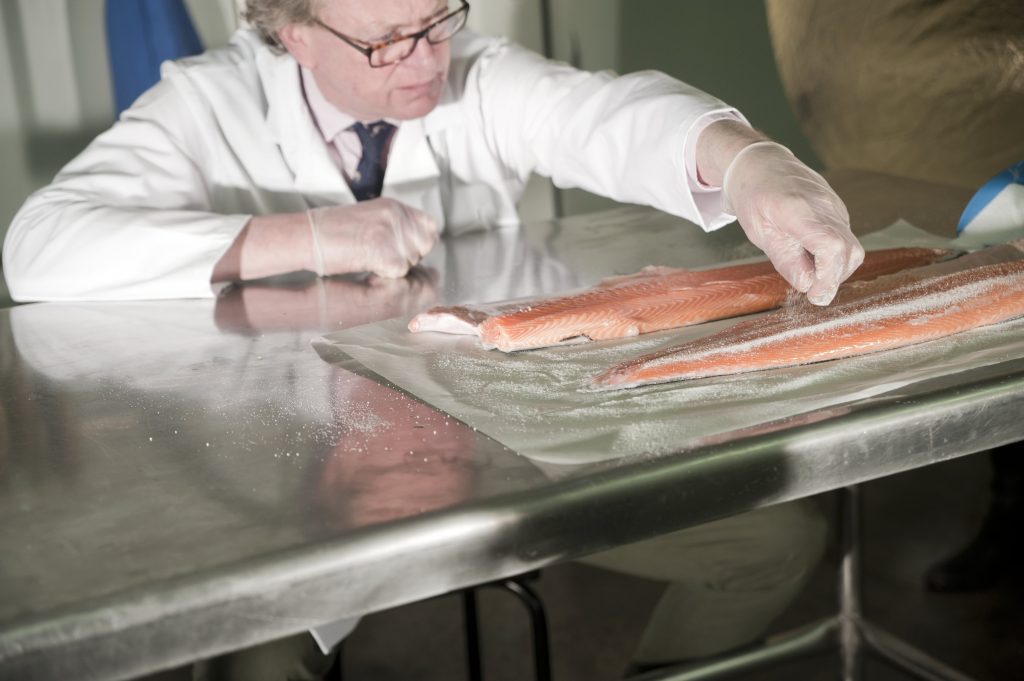 Bacon and Cabbage
On the menu of an Irish pub or restaurant that serves traditional Irish food will be boiled bacon and cabbage. This is a firm favourite among Irish homes and is served with boiled potatoes and can come with different sauces such as parsley. The flavours of the food are incredible and will leave you extremely satisfied.
Soda Bread
This is something that you should not depart Ireland without sampling. Like tapas are to Spanish food culture, soda bread is part of ours. Every person who makes the bread has their own recipe and adds their own unique flavour to it. The main ingredients of the soda bread are bicarbonate of soda and buttermilk form the raising agent, which is mixed in with flour. It is sliced and butter used as a topping and can be served with soup or used in sandwiches.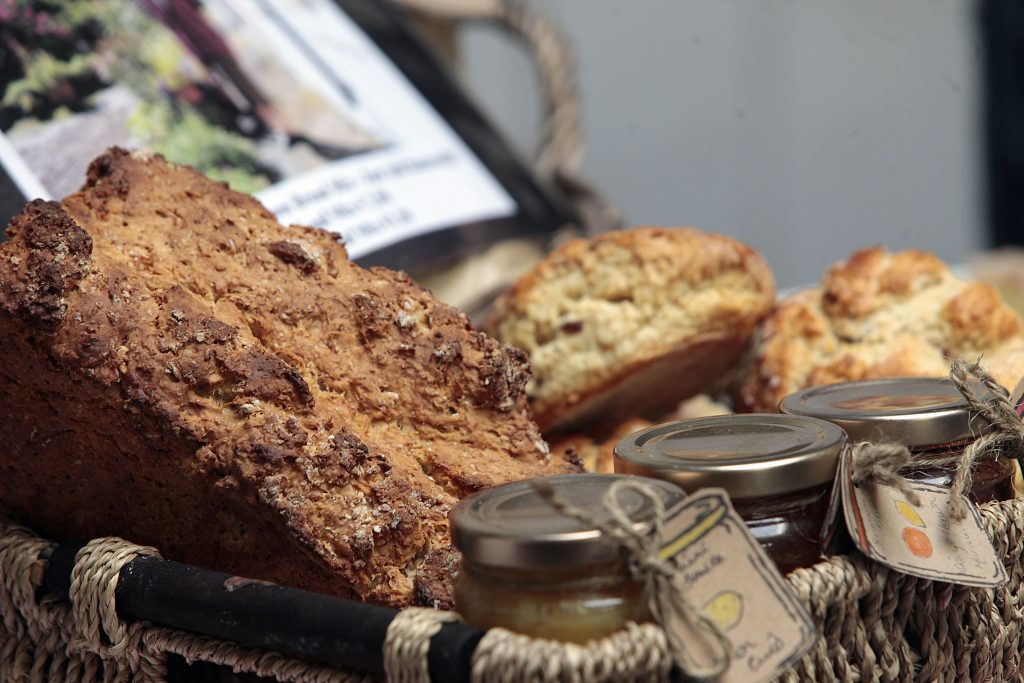 Barmbrack
Barmbrack is another type of bread and it is normally had during lunch or an evening snack. It is a type of bread that is distinctive to Ireland. This bread is typically very popular around Halloween time. It is a mix of half bread and half raisins and served with butter and jam, tea or coffee – there is nothing quite like it.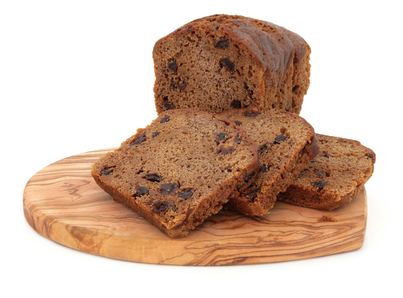 Traditional Irish Fry
The traditional full Irish fry is similar to the English fry but we have our own twist on this breakfast classic. Normally, this is had at breakfast and it will set you up for the day. In Northern Ireland, you will find the Ulster Fry which is very popular and is something that you needs to taste while visiting the island of Ireland. Usual ingredients for a fry are bacon, sausages, mushrooms, black and white pudding, fried eggs, hash browns, tomatoes and beans.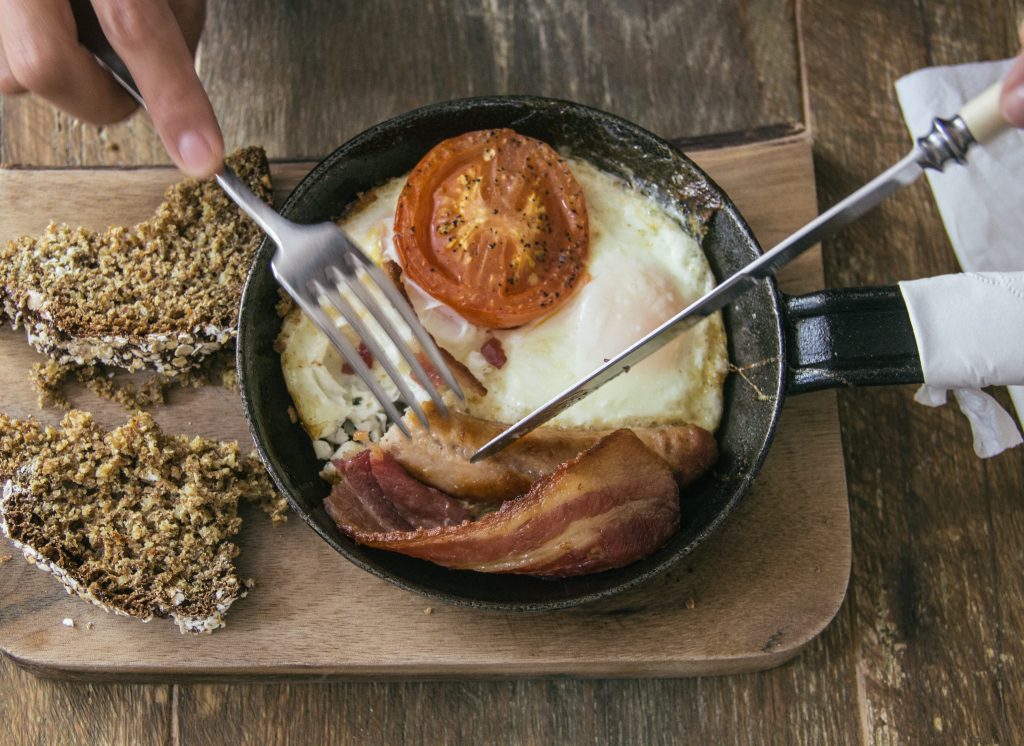 Colcannon
In essence, colcannon is mashed potatoes mixed with chopped cooked kale, green onions, milk or cream and lots of butter. During St Patrick's day, it is a particular favourite in Irish homes. This is served by making an impression in the middle of the mash and adding some butter.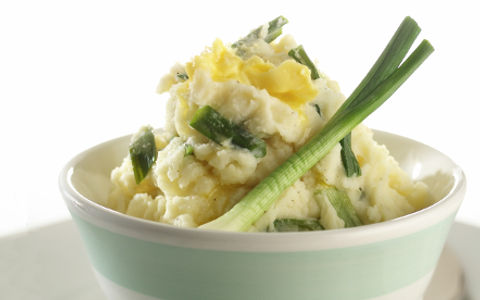 Waterford Blaa
What is special about Irish food is that many counties have some foods particular to them. The Waterford Blaa is bread but it is particular to Co Waterford. It can only be termed a Blaa if it comes from Waterford. Visit Waterford in order to try a Blaa – Waterford city is the oldest in Ireland and it is also known for its Viking culture. The Blaa goes well with butter or bacon (known as rashers in Ireland). This promises to live up to expectations.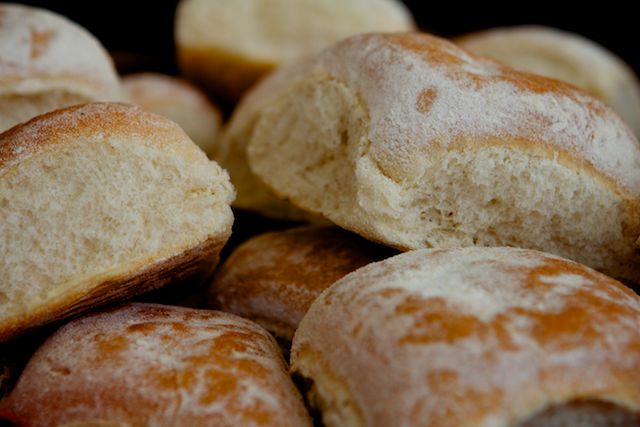 Get in Touch-
All these foods can be found on our tours of Ireland and will be on most restaurants, café or pubs menus. If you require any further information about our 2019 tours, please get in touch and one of our Irish based travel experts will be here to assist you in creating your dream holiday to Ireland.
Contact us today for a free tours quotation –
USA & Canada1877 298 7205
UK FreeFone0800 096 9438
International+353 69 77686
www.irishtourism.com