What you should know about the Skellig Islands before you plan your trip
About the Skellig Islands            
The Skellig Islands are two small extremely steep and rocky islands situated about 13km west of Bolus Head on the Ring of Kerry. The larger of the two islands Skellig Michael is open to the public, the smaller one is not but can be seen and photographed from Skellig Michael. A Christian Monastery was founded on Skellig Michael between the 6th and 8th century and remained occupied until the 12th century. The remains of the monastery, and most of the island, became a UNESCO World Heritage Site in 1996. Recently the island was featured in Star Wars: Episode VII – The Force Awakens.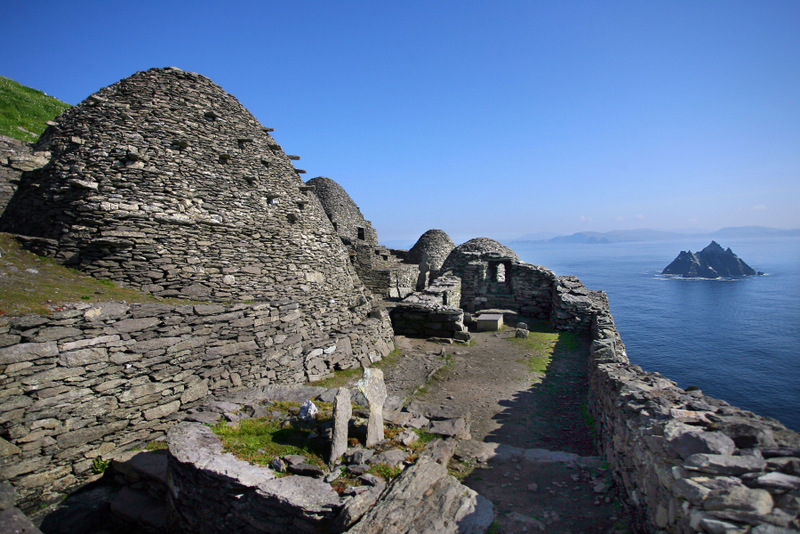 How to Get to the Skellig Islands
You can only take a boat trip that docks on the island in the summer season which is between May 12th and October 2nd and the boat trips are always subject to weather conditions on the day. Outside of this time period it may be possible to do a perimeter boat tour which allows you to see the island close up but won't stop to let people off.
The crossing takes about 40 minutes to an hour but can take longer depending on weather. There are contact details for the local boatmen that have a permit to run Skellig Island trips on the Office of Public Works website. The Skellig Experience Visitor centre also runs cruises around the island without landing on it.
Before you go to the Skellig Consider the Following:
It's a seriously hard climb! There are more than 600 steps to the summit and they are extremely steep. There are no handrails and the rocks can be dangerous, especially if wet.
If you decide to go, then you really have to make the climb or you will be waiting at the bottom with no shelter for the boat to return.
Along the climb there are intermittent little plateaus where you can take a rest but they are not really suitable to wait for long periods of time.
There is no toilet on the island or on the boats. Go before you go!
What to bring? Good walking shoes or boots, a jacket, some food, water and sunscreen.
Please watch the following safety video produced by the office of public works:
Skellig Experience Visitor Centre
If you can't make it to the Skellig Islands we recommend that you visit the Skellig Experience located just off the bridge from Portmagee to Valentia Island. Here you will find exhibitions on all aspects of the Skellig Islands as well as a 14 minute film presentation.
Contact the Irish Tourism Group –
The best way to learn about Ireland is to visit!  Contact us today for a quotation including some or all of these locations today –
USA & Canada1877 298 7205
UK FreeFone0800 096 9438
International+353 69 77686