About Inishmore (Inis Mór), Aran Islands
Inishmore (Irish Spelling Inis Mór) is the biggest and most populated of the famous Aran Islands off the coast of Galway in Ireland.  The entire island is about 30km squared. As with all of the islands the spoken language is Irish although locals can usually speak both English and Irish. The locals are dedicated to preserving traditional Irish culture and traditional Irish music is very much alive in Kilronan, the islands main village.
When you arrive on the island there are usually mini buses lined up, waiting to take prospective clients on tours around the island which feature all the major sites. There is a small fee for these tours. You can also usually take a tour of the island by horse and trap which is more expensive than the bus tour. There are also several bike hire companies, should you wish to see the island that way!
Some of the main tourist attractions on the island include –
Dún Aonghasa Fort & Visitor Centre: A superb example of an Iron or Bronze Age Promontory Fort, standing dramatically at the edge of a 100 metre high cliff! The on-site visitor centre will tell you more about how and why it was built.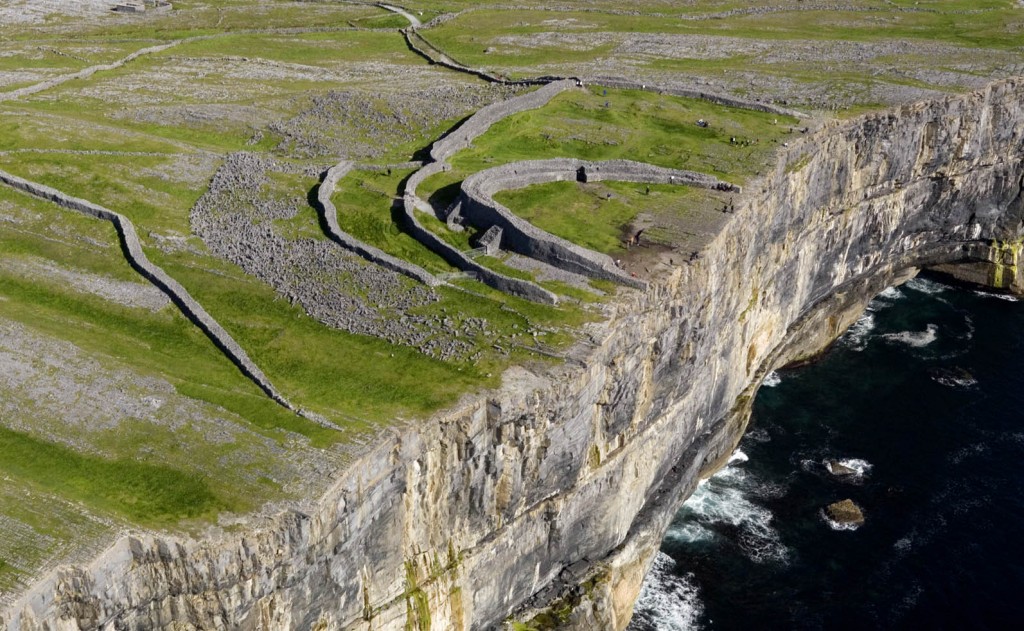 The Worm Hole: A natural rectangular shaped pool at the bottom of the cliffs south of Dún Aonghasa.
Dun Duchathair (The Black Fort): This fort is situated on the cliffs near Cill Éinne. It is a lot quieter than Dún Aonghasa in terms of visitor numbers. The fort is not easy to access, wear good walking boots and prepare for a bit of a trek if you wish to visit!
Kilmurvey Beach: There is a beautiful sandy beach on the island just off the road between Kilronan and Dun Aengus.
For more general information on the Aran Islands see our Aran Islands blog post here, or for information on getting to the islands click here. 
Want to book a tour that includes Inishmore?
The best way to learn about Inishmore is to spend time there! Contact us today for a quotation including this location in your Ireland tour!
USA & Canada1877 298 7205
UK FreeFone0800 096 9438
International+353 69 77686