Our Best Ireland Proposal Ideas
If you are thinking of popping the question in Ireland, then I wouldn't blame you. Ireland is often described as a beautiful, romantic country and everything that has been said, is 100% true! We've got rolling countryside, dramatic sea cliffs, stunning lakes and thousands of historic sites to visit, with our heritage going back thousands of years! So yes…Ireland is a great place to propose… do it!!
Before writing this post, I asked the Irish Tourism staff for their Ireland proposal ideas and between us, I think we've come up with some pretty good ideas:
Fanore Sea Cliffs, Followed by a pint at Gus O'Connors Pub & a Doolin Sunset
Fanore is located on the main road from Doolin to Ballyvaughan, in the Burren region of County Clare. Coming from Ballyvaughan, before you reach Fanore there is a rocky viewing point overlooking the Wild Atlantic Way. You will know the spot when you see it because there are laybys to park along the side of the road. On a good day the views over the cliff are breath-taking and all you can see is deep blue Atlantic Ocean, an ideal place to propose! Afterward head in to Doolin to celebrate with a pint or two and some great traditional music at Gus O'Connor's pub! In the evening, head down to Doolin Pier where the sun setting over the rocks is very romantic!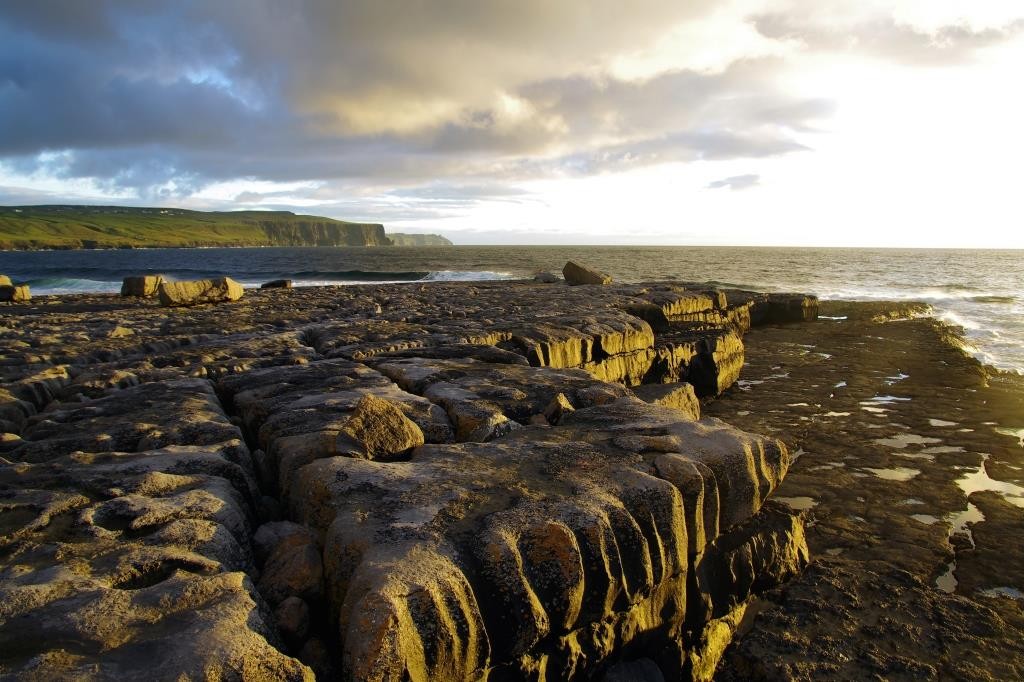 Check-in to an Irish Castle
Ireland has a massive number of castles dispersed around the countryside, from romantic ruins, to grand castles that may have been once home to Irish Chieftains and Lords. There are many castles that have been converted into hotels where you can enjoy a romantic stay.  Many of these Castle hotels have wooded walks or pretty gardens where you are sure to find a romantic spot to propose. Ashford Castle is situated beside a lake and boat trips can be booked from the reception. Wouldn't that be a picturesque proposal….on a boat, just the two of you, overlooking one of Ireland's most magnificent castles on stunning Lake Corrib!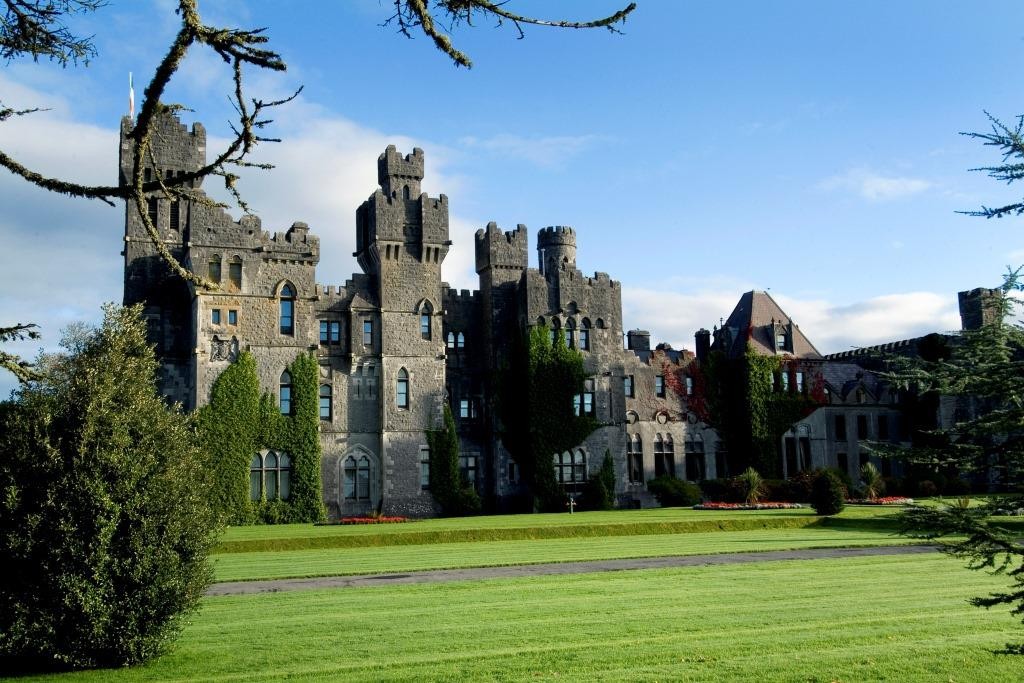 Is your Partner a Film Fan? Choose one of Ireland's famous film locations for your proposal!
Many movie-makers chose locations in Ireland to feature in their films. Most recently the Skellig Islands which you can reach by boat from the Ring of Kerry was featured in Star Wars: Episode VII – The Force Awakens. There are several locations in Northern Ireland that were included in Game of Thrones filming including a haunting path of meandering beech trees near Armoy in County Antrim which became the 'Dark Hedges' and Shane's Castle near Randalstown which featured in the tournament scene. The Dingle Peninsula was the setting for both Ryan's Daughter in the 1970's and Far & Away in 1992 and the stunning Cong region in County Mayo was the scene of John Ford's Epic film, The Quiet Man.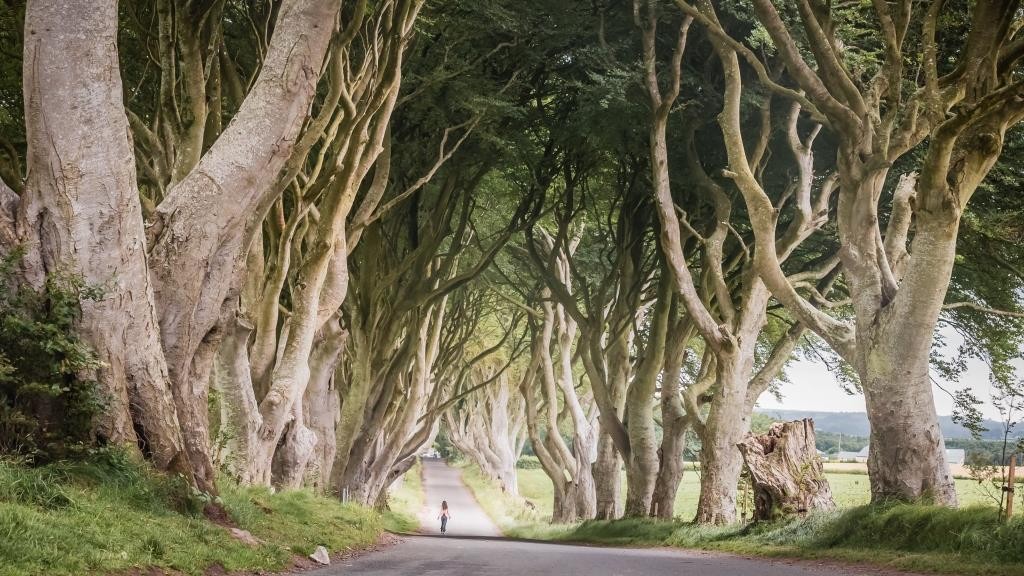 Locations Associated with the Romantic Legend of Diarmuid & Grainne
One of Ireland's most famous romantic legends is that of The Pursuit of Diarmuid and Gráinne.  Gráinne had been betrothed to the leader of the Fianna, Fionn Mac Cumhail but on her wedding day; fell desperately in love with one of Fionn's warriors, Diarmuid O'Duibhne. Putting a spell on Diarmuid to make him love her, the pair fled across Ireland, all the time being pursued by Fionn Mac Cumhail and the rest of his warriors. One day with Fionn closing in, Diarmuid and Grainne came across the heath of Benbulben in Co. Sligo, where a giant boar charged and fatally wounded Diarmuid. Many Neolithic stone monuments with flat roofs (such as court cairns, dolmens and wedge-shaped gallery graves) bear the local name Leaba Dhiarmada agus Ghráinne (Diarmuid and Grainne's Bed), being viewed as one of the fugitive couple's campsites for the night. An example would be Poulnabrone Dolmen in County Clare.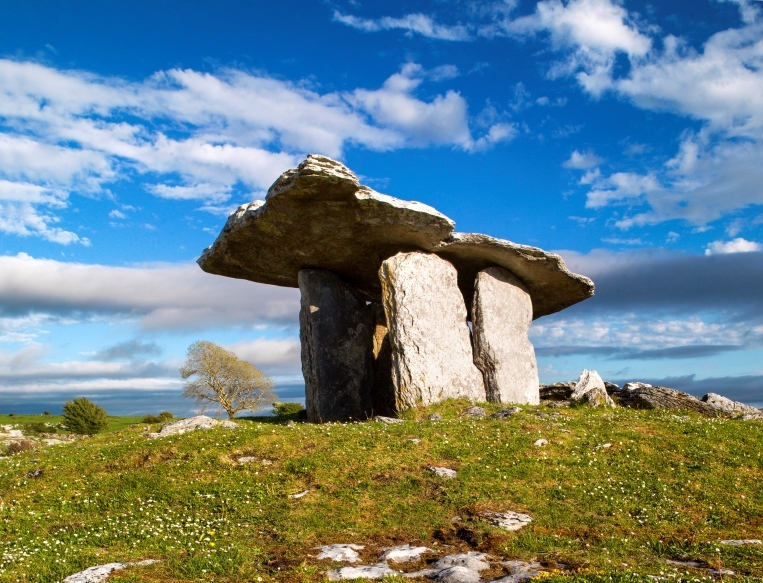 Look up your Partner's Irish Heritage & Included the County of their Ancestors in your Itinerary.
Over 10% of the American population report that they have Irish ancestry. If there may be an Irish connection in your partner's family tree, it may not be as difficult as you would think to find out where in Ireland their family came from. Talk to the elderly members to try and find out rough details; family name, approx. time leaving Ireland and possible county. You can cross reference any information you get on the Irish National Archive which has records back as far as 1821. If you do find a person connected to your partner, the site will tell you where they lived and you could perhaps stay nearby and take a trip there.
Get in Touch-
The best way to learn about Ireland is to visit yourself. Contact us for a quotation today –
USA & Canada1877 298 7205
UK FreeFone0800 096 9438
International+353 69 77686