By Orla Spencer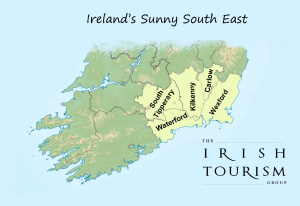 Ireland's Sunny South East is made up of the counties of Carlow, Kilkenny, South-Tipperary, Waterford and Wexford. Is the South East sunnier than other parts of Ireland you might ask? Well apparently so! According to Ireland's National Meteorological Service, Met Eireann – the extreme southeast gets an average of more than 7 hours a day in early summer when the rest of Ireland gets between 5-6.5 hours! This fact aside, Ireland's South East has a treasure trove of interesting places to visit and here are some of them-
Wexford-
Wexford is well known for its annual Opera Festival, which has gained reputation internationally for introducing audiences to previously neglected works. Other places of interest include the Ring of Hook, a spectacular drive around the Hook Peninsula with the oldest operating lighthouse in the world at its tip! History and heritage seekers will love the Irish National Heritage Park, here trails run through replicas of Stone-Age to Early Christian and Viking dwellings giving an interactive insight into Ireland's varied history. The ultimate Irish Castle experience can be found in Wexford's Johnstown Castle– a remarkable Gothic Revival Mansion and in New Ross discover The Dunbrody, a full scale replica of a 'coffin-ship' used to take those suffering the Irish Famine to more hopeful lands.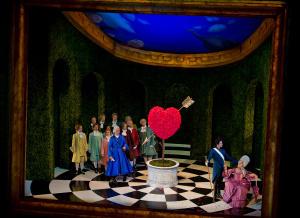 Waterford –
The City of Waterford has strong links with the Vikings. The name Waterford itself is  believed to derive from the old Norse word 'Vedrarfjiordr' and in what is known as the Viking Triangle you will find a number of interesting museums; Reginald's Tower which has an exhibition that displays a superb collection of historic and archaeological artefacts, The Bishops Palace built in 1743 by renowned architect Richard Castle and the Medieval Museum which includes numerous well preserved medieval structures, including the beautiful Chorister's Hall. Before you leave Waterford city we recommend a stop at the wonderful Waterford Crystal Museum where you can see one of Ireland's most famous exports in the making. Further southeast, Dunmore East is a pleasant fishing village and popular seaside retreat. The heritage town of Lismore is also within easy reach and amongst the many interesting period buildings in the town you will find Lismore Castle and St. Carthages Cathedral.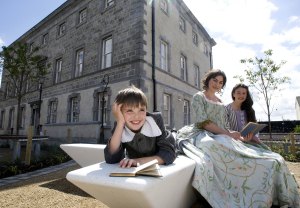 Kilkenny-
If you are interested in sport at all try to take in a Hurling match! Kilkenny is most famous for its fantastic hurlers, having won the All-Ireland Hurling Championship 35 times! Kilkenny City itself is one of Ireland's busiest, a popular destination for hen and stag parties and a popular family holiday destination. Sites of Interest include Kilkenny Castle ancestral home to the Butler family, Saint Canice's Cathedral where a climb to the top of its adjacent round tower offers fantastic views of the city. Further north check out Castlecomer Discovery Park which as an interesting coal-mining museum and craft yard. In Thomastown you will find the extensive ruins of  Jerpoint Abbey and Jerpoint Park, Ireland's best example of an abandoned 12th Century Medieval Town.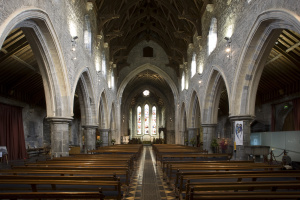 South Tipperary –
Tipperary is rich in historic sites of interest; The Rock of Cashel which rises dramatically above Cashel town was once an important symbol of kingship and religious power. In the early 5th century it was the seat of the Kings of Munster and was famously presided over by Brian Boru. Later the fortress was given to the church and now there are many religious monuments to visit including the hall of the vicar's choral and the ruin of an ornate gothic cathedral. Close by in the heritage town of Cahir, Cahir Castle can be visited. The castle retains so much of its original character that it has been the set for many films including Excalibur. The renovated interior of the castle includes a large great hall decorated with authentic furniture.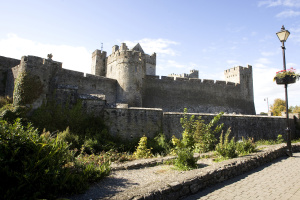 Carlow –
Carlow town is picturesquely situated where the River Barrow and the Burrin River meet. At one point in time it was believed that there were four lakes here, hence the Irish word Ceathar Loch, or Four Lakes. A small county, Carlow has few attractions relative to other counties in Ireland; however the few available are well worth a visit. Borris House in South Carlow is the ancestral home of the MacMurrough Kavanaghs, who were once kings of Leinster. Borris House's past can be traced back to the Royal families of ancient Ireland and a tour of the house covers all aspects of this fascinating history.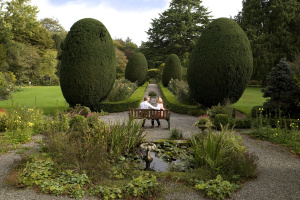 One of Ireland's newest museums, Carlow County Museum gives a fascinating insight into the social and industrial history of Carlow. Exhibits include a wonderful 19th century hand carved pulpit from Carlow Cathedral.  If gardens is your thing, be sure to stop by the Altamont Gardens, on a 100 acre estate, these gardens are often considered as Ireland's most romantic!