By Orla Spencer
Left is the Best!
I will tell you this because it might help, even though I know that I will get stick for it in the office! When I was learning to drive here in Ireland, I would say to myself 'left is the best for driving' every time I got into the car, as I was petrified that I would drive on the wrong side of the road. So remember my silly rhyme while you are in Ireland to remember that we drive on the left!
If you are someone like my fiend Una who can't remember her left from her right, do what she does and make an L shape with your index finger and thumb! (If it looks like an L, then that's your left!)
Tips for not getting lost in Ireland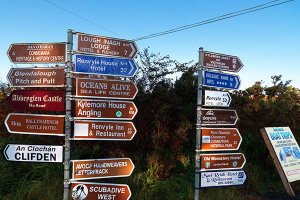 Ireland is known for its spectacular scenery, its wild Atlantic Ocean views and majestic mountain passes. Ireland is not known however for its great directional signage! Some roads have many, more have too many (image) others have a few signs to tell you where to go and then some roads simply don't have anything! This is something we complain about frequently and improvements have been made, but we have a long way to go before we are up to the standards of the rest of Europe. There isn't anything you or I can do about that now, so the best thing to do, is prepare yourself!
Buy a good road-map; the bookshops at the airport usually have up-to-date maps. Check the publication date and buy the one that was printed most recently.
Plan out your route in advance and have a general idea of where you need to go. We provide a detailed itinerary with our self-drive tours of Ireland that usually has a number of ways to get to your destination, and this should help you plan.
If you want to make things very easy for yourself, invest in GPS before you go. For more information and prices see: www.irishtourism.com
The Dreaded Roundabout!
We know roundabouts are scarce in the United States & Canada but in Ireland prepare to encounter quite a few! Don't be scared though, roundabouts are generally harmless and easy to navigate once you are familiar with them.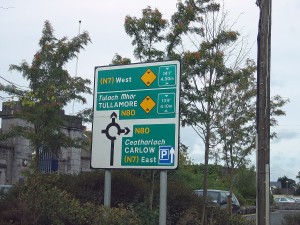 The Rules –
The first thing to do is be prepared. Know where you are going so that you can get into the correct lane.
Always Yield to traffic approaching from your right and traffic that is already on the roundabout.
Lanes –
• Roundabouts in Ireland can have several exits and you need to be aware of the lane you should be in depending on which exit you are taking.
• Generally a good rule of thumb is if you are taking any exit from the 6 o'clock to the 12 o'clock position, approach in the left-hand lane.
• If taking any exit between the 12 o'clock to the 6 o'clock positions, approach in the right-hand lane
**Read the signs on approach, sometimes the lane rules above are changed and signposts approaching the roundabout will tell you where to go***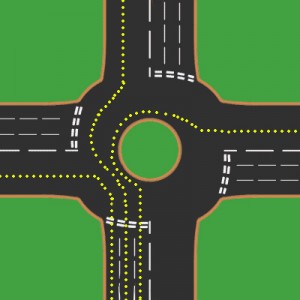 Indicating –
• If taking the 1st exit left you indicate left while you are in the lane to turn left
• If taking the 2nd exit left: enter the roundabout in the left-hand lane but do not indicate until you have passed the 1st exit, then indicate a left turn and leave at the 2nd exit.
• If you are going straight on, do not indicate left until you have passed the exit before the one you intend to take.
• If turning right by the 3rd or any subsequent exit, get in the correct lane and indicate right. As you pass the exit before the one you intend to leave by, indicate a left turn and, when the way is clear, move to the other lane and take the desired exit
Tips for Driving on Narrow Irish Roads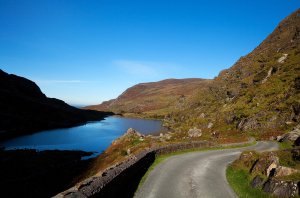 You will find some of Ireland's best scenery as you drive our narrow country roads. Here are some things to be aware of as you travel;
Extra care needs to be taken when there is no white line in the centre of the road. You need to use your personal judgement, sometimes there is enough space for two cars at either side of the road and sometimes there will only be space for one car and one of you will need to give right of way. Either way, drive slowly, especially around bends where there may be oncoming traffic, cyclists or walkers.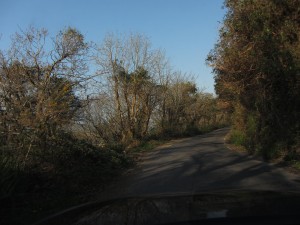 Where there is not enough space for two cars you will notice lay by areas at the side of the road like the one pictured above. If the lay by is closest to you on your left, you would pull in here and leave the other car pass you by. If the layby is behind you, you may have to reverse. If there is no layby, you may need to use the entrance to a house or farm. Take your time, use your mirrors and be very careful. Watch out for signs in the area telling you want to do.
Remember, if you are nervous driving on our very narrow roads, you can always pre-book a day long coach tour in some of our top driving routes like the Dingle Peninsula & Ring of Kerry. For more information, please contact us. 
Parking in Ireland
Pay attention to the signs where you are located. Don't park beside a double yellow line and don't park in a yellow grid box.
Where possible choose a car park, we have plenty. Watch for signs telling you how to pay. Sometimes you need to purchase a parking disk (just ask where in the closest shop) and sometimes you need to pay in advance and display a parking ticket.
If you have a disability, European Parking Cards (also known as Disabled Parking Permits) can be used by disabled people within the 25 member states of the EU. If you are visiting Ireland or are from outside of the EU you should bring your Disabled Parking Permit/European Parking Card with you. Your Disabled Parking Permit/European Parking Card should be visibly displayed in your parked car.
Irish Driving Customs
If you meet a stranger coming towards you on a quiet country road and they give you a pleasant wave, don't be alarmed! We are a friendly bunch and it not uncommon to wave at total strangers!
If you pull into the slow lane to let a car pass you out, if they flash their back lights this means 'hey, thanks a lot'! If you see someone flashing their lights as you drive towards them it means either there is some kind of danger nearby or the Gardaí are checking for speeding cars up ahead! (By the way, flashing your lights to tell people Gardaí are nearby is illegal so don't do it yourself).
Des Bishop does a good comedy routine about Ireland's driving communications. Check it out here:
Some handy websites for more information on driving in Ireland –
http://www.citizensinformation.ie
http://www.rsa.ie/
http://www.theaa.ie/