By Orla Spencer
Another mad Irish Fest!
It can be said that Ireland loves a festival with a bit of character (to put it mildly!), that's probably why the Puck Fair Festival in Killorglin County Kerry has been going strong for more than 400 years!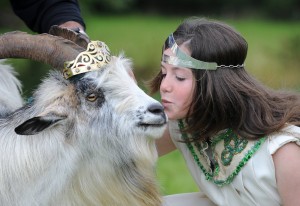 Every year a goat catcher makes their way up one of the Kerry Mountains to retrieve a wild goat. When the goat is brought back to the town a local young girl usually chosen from one of the national schools is named 'Queen of Puck' and crowns the goat 'King Puck'. King Puck then spends three days on a high stand overlooking Killorglin town, to oversee the celebrations below and when the festival is ended he is safely returned from where he came. Festivities include live music, a live parade, workshops and street performers.
What's the history behind Puck Fair? It's going on so long that nobody really knows why but the most widely told story is one involving Oliver Cromwell who came to Ireland with armed forces in 1649 with the intention of carrying on ''the great work against the barbarous and blood-thirsty Irish''. The story of Puck tells us that while Cromwell and his men were pillaging the countryside they rounded a heard of wild goats from the mountain. One of the goats then broke free and made his way to Killorglin town and alerted the townsfolk to Cromwell's arrival giving them time to prepare themselves for defence. It is said that in gratitude for the service rendered by that goat that the people decided to put on a special festival in his honour and this festival has been held ever since.
Get in Touch-
The best way to learn about Ireland is to visit yourself. Contact us today for a quotation today –
USA & Canada1877 298 7205
UK FreeFone0800 096 9438
International+353 69 77686
www.irishtourism.com